Expecting "Star Wars: Episode VII—The Force Awakens" one of the most successful movie series to come out, Twitter has created Star Wars official emojis and All Nippon Airways launched a Star Wars passenger jet.
Emojis have become a mainstream that makes a digital life more varied, colourful and personal adding more fun and expressiveness to the language. It's a good chance for brands to be always in touch with their audience to convey their messages more creatively.
To make fans feel satisfied Twitter in partnership with Disney and Lucasfilm have created exclusive StarWarsEmojis in anticipation of "Star Wars: The Force Awakens" that will be released on December 18.
There have been three emojis so far: a stormtrooper, C3PO and the new droid BB8 that will be shown in the new episode. More characters are coming up soon.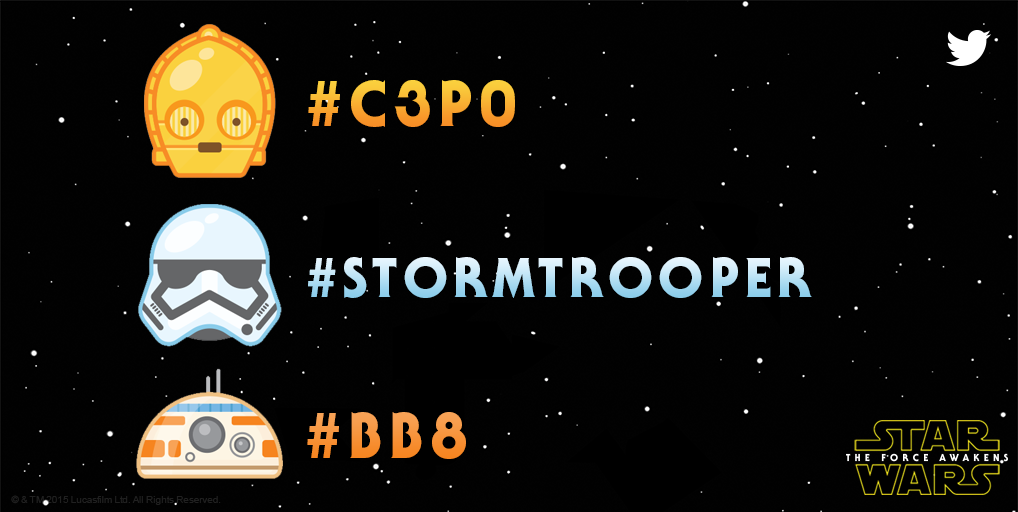 What is so special about new emojis is that these emojis will not be available in the smartphone keyboard. To use them you need a Twitter account. The emojis will appear after using the hashtags #C3PO, #Stormtrooper or #BB8 on Twitter website or in Twitter's mobile app.
In addition, the Japanese company All Nippon Airways (ANA) launched Star Wars themed jet dedicated to R2-D2 from Star Wars. Its newest aircraft Boeing 787-9 Dreamliner has been painted the same color as the droid and there is a large Star Wars logo on the fuselage display. It was unveiled at a Star Wars Celebration in Anaheim, California, on 17 April.
(via)
Regular flights ANA R2-D2 jet are expected in the fall this year and start flying international routes.
On the special ANA website you can find the iconic theme song, features videos and photos of the plane.
Without doubt, all this stuff is the best marketing campaign for the upcoming film Firstly, emojis give opportunity for brands to communicate with their fans in a non-intrusive way and penetrate in consumer's mind in a delicate manner using their language of speaking. It's a pity that they have been created just for Twitter users and you can't copy and paste them to the other platforms so far.
Secondly, branded jetlines is a good advertisement for the airlines and it is a way to stand out. It is the first-ever flight of a passenger aircraft featuring a Star Wars character.
It is higt time fans booked seats.
Read more about emojis and emoticons