A luxury brand Burberry expands its Twitter partnership. It introduces a new initiative called #Tweetcam that enables fans and users all over the world to take a photograph live from the Burberry Prorsum Autumn/Winter 2015 Womenswear show at London Fashion Week.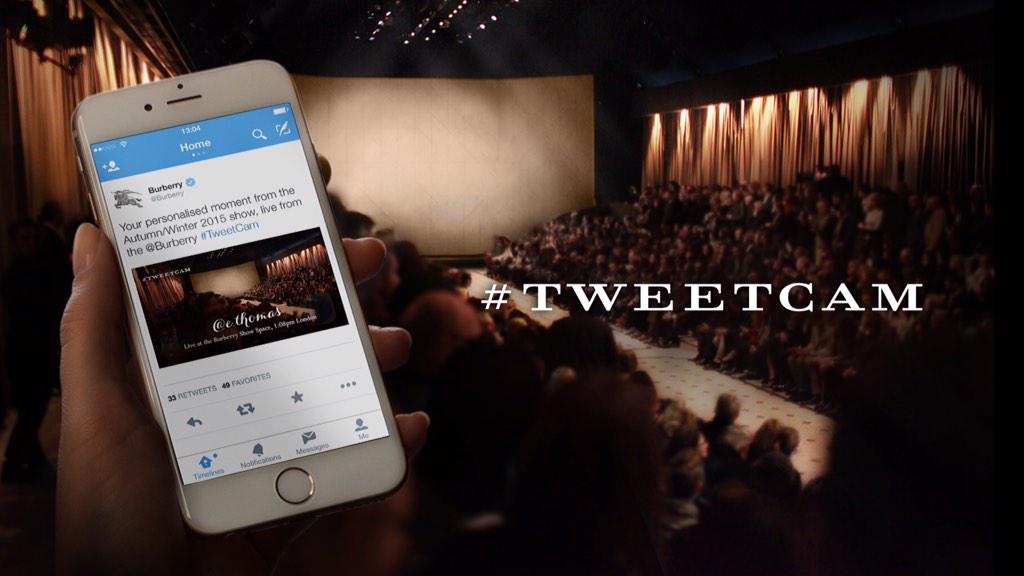 (via)
Burberry has partnered with Twitter to offer users to take pictures from the catwalk show by using the hashtag #Tweetcam on their smartphones. The #Tweetcam is a tweet-activated camera that allows Twitter users to stream the real time photo or video content.
By tweeting #Tweetcam to the Burberry Twitter account (@Burberry) users can activate a camera to take a picture live with the best point of observation at the moment when models show off clothes on the runway. After that Burberry personalizes each photo taken by users with their Twitter handle, shows the exact time the picture is taken and then tweets it back to them.
Moreover, to interact with their Japanese users Burberry has also partnered with the Japanese messaging platform called Line to get access to live stream show.
Burberry gives an innovative and effective example of using social media strategy and e-commerce in the fashion world. It is also a good example of interacting with its followers, engaging them in a various special content and initiatives.
Burberry is the first luxury brand to sell products through Twitter. In particular when Twitter's "Buy now" button was launched in 2014. Earlier in 2011 Burberry offered their fans an exclusive content using the hashtag #TweetWalk. Users had an access to its new collection images before the items were shown by the models on the catwalk.
Read more about fashion