Bewitched music, a mysterious voice, a new SUV …all these you can find in the new MG Motors commercial in China … the game is on!
While we are looking forward to a new episode of Sherlock that will return in December we can enjoy seeing him on the commercial. The MG GS SUV made its debut at Shanghai Auto Show where Benedict Cumberbatch had been chosen as the Ambassador because a TV series "Sherlock" is very popular in China.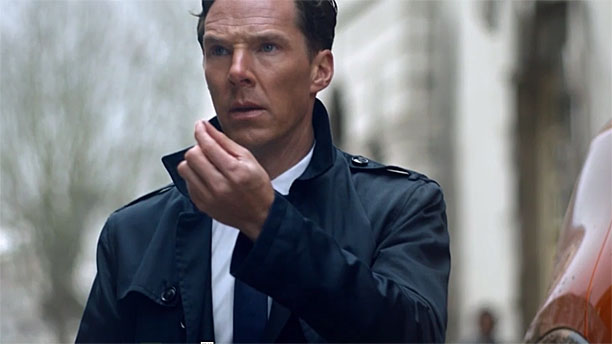 What I like in this ad campaign most is that you can see the actor in his usual role of Sherlock Holmes. In the ad you can see Cumberbatch do what he is good at: solving complex problems, investigating, using his unique abilities, such as observation and deduction, in order to meet a mystery girl. The new MG GS SUV helps him to reveal the mystery.
The commercial starts in a London street where we can see the actor walking along in his blue trench coat. As he is passing a red phone box a sound of telephone ringing attracts his attention. Being curious, he answers it and a female voice on the line asks, "Want to play a game?".
He takes a car key, looks around and sees an orange MG GS SUV parking alone in the street and comes up to it. As a good detective he notices small details, quickly reads a situation and comes up with a deduction.
So he starts his investigations. On the surface of the car he discovers mud, flower petals and drops of water and in his mind pictures start flashing. Driven by curiosity he gets into the MG GS SUV. Through the commercial you can value the vehicle: comfortable, stylish, dynamic, easy-to-drive off-road both in town and outside.
While driving around London a beatiful girl image appears before his eyes. Then we see Cumberbatch approaching the Tower Bridge and next moment his car in the air successfully landing on the other part of the Tower. Finally, he finds the girl standing by the Tower Bridge. Feeling quite content, he slightly opens a car window and tells her "I could do this all day."
(via)
To my mind it's a clever idea to promote the vehicle. To engage audience the company used the marketing strategy such as branded entertainment (or branded content) that is considered very effective.
Firstly, brand messages or values are integrated into the content of entertainment (for example, ads, TV shows, video games etc). Brands are more likely to get noticed by film fans instead of just showing the benefits of the product. Secondly, it is non-invasive way of advertising. The characters are not directly trying to sell anything. Thirdly, it allows to create a story that establishes a strong emotional dialogue with the audience. It is very persuasive. Finally, branded content can generate huge media exposure (reach a lot of people) and get the brand noticed. It can go viral.
Do you consider this campaign effective? 🙂
Read more about automotive ads